Telemedicine vs Telehealth: What's the Difference?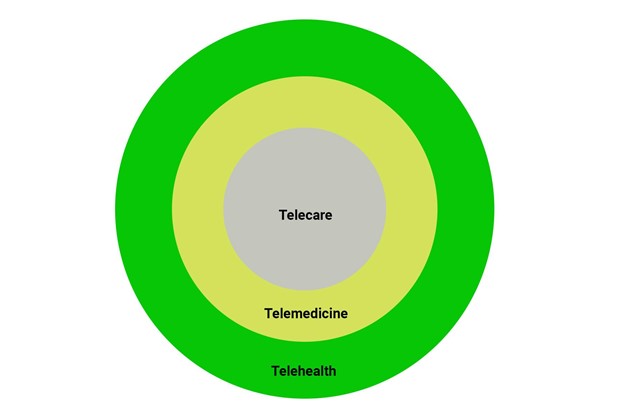 Table of Contents
The Internet has made many services not only possible but inescapable. From social media networks, to online stock trading and banking to online schooling and online medicine. The latter has been dubbed as telemedicine, although there is some confusion between the terms, specifically the distinction — telemedicine vs telehealth.
What is Telemedicine?
Telemedicine can be understood as a narrower aspect of telehealth, as it relates to clinical services provided from a distance from a licensed medical professional, either a doctor or a nurse.
What is Telehealth?
On the other hand, telehealth refers to the entire ecosystem of all the technologies and services that can provide medical care remotely. For example, if you were to go to a government or healthcare insurance company website to check your medical record, this would be a part of telehealth.
Think of telehealth as the highest category of eHealth subsets:
Telehealth — an all-encompassing range of tech and personnel that enhances the healthcare system for better utilization.

Telemedicine — clinical interaction between the patient and a doctor/nurse from a distance.

Telecare — end-result of telemedicine in which patients can be remotely monitored to successfully complete a treatment.

From the least involved — checking an online website — to the most involved — having a session with a doctor remotely via videoconferencing — the telehealth ecosystem represents the infrastructure to make telemedicine and telecare possible.
This includes a partnership between tech companies and healthcare providers, personnel training and medical education, and administrative management.
Why Is Telehealth Needed?
Like television's rise to dominance in entertainment in the latter half of the 20th century, telemedicine stands to be the new big thing in the field of medicine. High speed broadband internet and affordable computers have made telemedicine widely and cheaply available.
With the massive growth of the population, medical resources are stretched thin. All nations report shortages of medical professionals, including the United States, in which Association of American Medical Colleges (AAMC) projects there will be a shortage of healthcare workers up to 96,000 by 2033 (Dall, 2020).
In the pre-internet era, such shortages were addressed by doctors traveling to remote, sparsely populated areas, and imposing long waiting lists in hospitals.
Telehealth or telematics, as WHO dubbed it, is a natural utilization of digital technology to make medical services accessible to more people in a timely manner.
Benefits of Telehealth
In essence, telehealth makes the entire healthcare system more responsive, more transparent, and more available.
High-resolution video-recording technology present in consumer devices, from smartphones to laptops, can be used by doctors to conduct remote exams. Some medical branches, like dermatology, make more use of it than others.
Doctors can direct patients to appropriate local services rather than await a face to face consultation.
Timely medical updates and drug prescriptions, which can be easily renewed remotely if needed.
Increased level of medical monitoring with smart devices.
Thanks to telehealth technology, telemedicine benefits may not surpass the value of seeing a physician in person, but they are significant and make a measurable difference when applied as a holistic ecosystem.
How Does Telemedicine Work?
Telemedicine vs telehealth distinction is less important than how it is conducted. People will continue to use the terms interchangeably as one is intertwined within the other. However, according to the Health Resources and Services Administration (HRSA), telehealth may or may not include clinical service within four types of interactions:
Two-way, real-time, audio-visual interaction, otherwise known as videoconferencing: In the wake of the COVID-19 pandemic, such services have become hugely popular for business and government meetings, and online classes. It is also called synchronous live video.


Asynchronous media output, pre-recorded, or stored: This relates to sending digital data such as x-rays, recorded videos, or photos of injuries and abnormalities. Such data is then evaluated by a specialist.


Medical monitoring or remote patient monitoring (RPM): When a patient has electronic monitoring devices capable of sending data to a data processing service. Upon reviewing this data, doctors and nurses can tweak the therapy and significantly reduce readmission rates.


mHealth or mobile health: Mainly related to education and support services on consumer devices such as phones and tablets. Depending on your preferences, you can opt to have your healthcare provider send you health-promoting messages, updates, and alerts about disease outbreaks. No doubt, this will be more common in the wake of the coronavirus pandemic.

As you can see, both telemedicine services and telecare are incorporated into the telehealth ecosystem of eHealth. Although there is no harm in using these terms interchangeably, if you want to be more specific, use telemedicine when you want to describe clinical services and telehealth when you want to refer to non-clinical remote services.
Bibliography
Dall, T. (2020). The Complexities of Physician Supply and Demand: Projections From 2018 to 2033. Association of American Medical Colleges.