Doxy.me Vs. MyClinic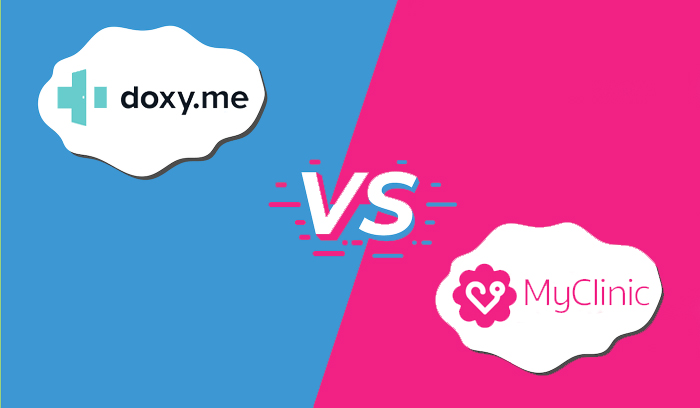 Table of Contents
As conducting business and shopping in the virtual space becomes more common, telemedicine is also gaining ground. Like with any brick-and-mortar store, we choose those that offer a pleasant and hassle-free experience. The same applies to telehealth.
With the post-corona expanding telehealth ecosystem, both doctors and patients must choose a platform to serve as the foundation of their experience. Doctors must find a solution that is ultimately beneficial for their business, while patients seek the easiest and most secure telemedicine platform.
Getting two-way video streaming to work is the easy part. The more difficult part is rounding up the entire telemedicine package. Patients and doctors are looking for answers to these questions:
Is the audio and video connection stable, without unforeseen interruptions?
Does telemedicine allow for easy scheduling and post-visit billing?
Does the patient have to install something or just follow a link given to him/her?
Does the platform allow for file sharing?
Does it have a virtual meeting room — a lobby so that a patient can prepare all the documents needed before the video session with the doctor begins?
How secure is the telemedicine platform? Does it adhere to HIPAA and GDPR privacy guidelines?
Thankfully, the most prominent telemedicine solutions these days have answered positively to these considerations. Among them are Doxy.me and MyClinic.com.
Which One Is Better for Your Needs, MyClinic or Doxy.me?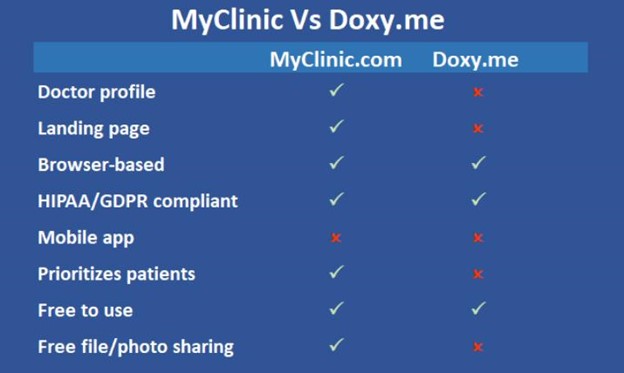 Both telehealth platforms have evolved over time to meet the needs of patients and doctors. However, they do have some differences, as you can see from the comparison table below.
Doxy.me is the older of the two, first developed at the University of Utah to serve the needs of a prenatal study. Only in 2014, it went public as a commercial telemedicine solution. Prior to 2020, Doxy.me found itself in the service of over 50,000 providers.
On the other hand, MyClinic was developed by a general practitioner (GP), Abdullah Albeyatti, with a patient-doctor relationship in mind, not a clinical study. Dr. Albeyatti founded MyClinic in Leeds in 2017, however, its rapid development and expansion of features unfolded during 2020 amid the COVID-19 pandemic. Before the societal disruption by the pandemic, Dr. Albeyatti has been a strong advocate for telehealth solutions, representing the Local Medical Committee, and serving on the Yorkshire Faculty Chair for the Royal College of General Practitioners.
Both MyClinic and Doxy.me require no installation and boast ease of use. This means that both platforms are powered by web browsers, offering the ultimate compatibility across all devices and operating systems — Windows, Android, and iOS. However, if you take a look at Doxy.me reviews, you will often find that it has trouble running on all web browsers. Even if it does run on your favorite browsers, users report that the page needs to be refreshed for the telemedicine session to continue forward.
Furthermore, if you happen to run two video chats simultaneously, such as Skype or Zoom, it is likely to suffer a crash. To make things more difficult, sometimes both parties will have to hard-reboot their computers for the communication protocols to re-establish.
Built at a later date, from cutting-edge software engineering practices, MyClinic doesn't suffer such issues, ensuring a smooth video session with a patient.
Pricing Tiers Between MyClinic and Doxy.me
As for the pricing tiers, both MyClinic and Doxy.me offer free versions, with MyClinic providing the following features free of charge:
Unlimited Video Calls
Email Invitations
Screen Sharing
Virtual Waiting room
File and Photo Sharing
This is similar to Doxy.me, except that the platform requires a $29 monthly subscription to access file sharing, which MyClinic gives for free. This is very important, as patients often have to upload specialist documentation, prescription, photos, and other digitized documents relevant to medical evaluation.
In conclusion, Myclinic telemedicine solutions provide better products for doctors and patients.
Click here to request a free demo and see how the whole system performs in real-world conditions, no matter what device or operating system you are familiar with.
Bibliography:

Fukui, A. (2018, December 14). Dr Abdullah Albeyatti, Co-Founder & CEO Medicalchain. Doctorpreneurs.