Should You Use Zoom or MyClinic for Telemedicine?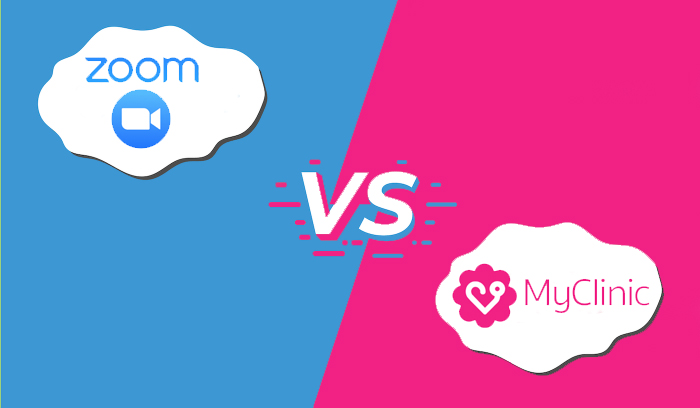 Table of Contents
The age of social distancing and mask-wearing seems to have entered a never-ending cycle. From the first promise of "two weeks to flatten the curve" last March, to even vaccines not being able to keep up with new viral strains. No matter how the pandemic ends, one conclusion is certain. After such a substantial time period, new social norms and habits are being calcified.
In turn, this means that more and more people will take advantage of online shopping, online education, remote working, and most importantly, accessing healthcare — telemedicine. Hundreds of millions of people are already accustomed to using videoconferencing software. The most popular one worldwide is Zoom.
Such familiarization for so many bodes well for the widespread adoption of telemedicine. However, is Zoom the right tool to use for remote medical consultations? After all, Zoom's appeal is its simplicity and being for free, for basic time limited access..
Zoom — a Compromise Too High?
First, let's review how can Zoom be used in telemedicine:
Training health professionals to help them hone their communication skills with both patients and other doctors.
Administrative coordination to assess logistics — equipment, supply inventory — in order to streamline deliveries.
Perform a remote screening of patients for symptoms before allowing them to interact with medical facilities.
Perform online consultations for a remote diagnosis or a checkup.
At a glance, Zoom's offering might sound like a good solution for telemedicine. However, you should keep in mind its history of security issues. If you follow the news and social media, you have probably already heard of "Zoom bombers". This term refers to crashing video streaming sessions like you would crash a party. Those who often use Zoom tend to find strangers frequently barging into private virtual spaces only to cause trouble (Flaherty, 2020).
Worse, sometimes, they stay quiet to glean information from other participants who unwittingly think all video session participants are supposed to be there. Given such poor security for the masses, Zoom is also referred to as malware by some cybersecurity experts. Other cybersecurity experts point to Zoom's appaulling attitude towards both privacy and security (MILLER, 2020).
In short, would you be comfortable in exposing yourself and your private medical information to a video streaming platform with such a poor track record?
MyClinic as a Dedicated Telemedicine Platform
This is why one should look outside what is popular and instead focus on what is secure — a dedicated telemedicine platform with a medical doctor's input in its design. MyClinic fits that bill.
While Zoom is technically HIPAA compliant, it represents a generalist virtual meeting application without telemedicine in mind. MyClinic's telehealth platform has been built with HIPAA compliance in mind from the get-go, tailor-made for medical purposes.
HIPAA refers to the Health Insurance Portability and Accountability Act from 1996, focussed on upholding the highest privacy and security standards based on four rules:
HIPAA Privacy Rule – Every patient has a right to protected health information (PHI), which includes medical records, name, address, phone number, SSN, financial information, face photo, etc. Under the privacy rule, patients' rights to access PHI are regulated, as well as healthcare providers' denial of access to PHI.
HIPAA Security Rule – Establishes national standards involved in managing ePHI. This rule covers both insured individuals and business partners due to the delicate nature of ePHI. This way, security breaches are reduced to a minimum.
HIPAA Breach Notification Rule – In the worst-case scenario, a security breach, this ruleset governs protocols in the aftermath of an (e)PHI data breach. These breaches can be either minor or meaningful.
HIPAA Omnibus Rule – This rule was simply added to the bunch in order to cover business associates, thus extending the coverage for all entities involved in the transmission, storage, and holding of PHI data.
Outside of HIPAA compliance, for which both parties need special accounts on Zoom, there is also the matter of using third-party applications. Unlike Zoom, MyClinic is a purely a web-based platform, which means it can be accessed from any device capable of running an internet browser.
Furthermore, this means that MyClinic is an integrated platform holding all the ingredients for a successful telemedicine session:
Free email notification (paid SMS notifications).
All the pre-video session steps: pre-visit triage, scheduling, virtual waiting room.
Follow-up system in which medical professionals can easily contact their patients without going outside the platform, thus endangering their privacy.
For every doctor, MyClinic sets up their profile, which serves as a landing page. This allows for a creation of a thriving eHealth ecosystem, instead of just providing a technical telemedicine service.
As an app, Zoom is heavy on the CPU (processor) usage, unlike MyClinic, which is web-based, accessed with any type of web browser.
Zoom supports only up to 30 frames per second (fps) video streaming. This eliminates the possibility of a smooth, detailed video that a 60 fps service such as the one MyClinic provides. With 60 fps video streaming, it is much easier to follow through a remote medical exam because the doctor has access to double the number of pictures in a second.
Lastly, MyClinic was commissioned by medical professionals for the purpose of diagnosing and checking up on patients. All of its key elements, privacy, security, ease-of-use, and features of convenience, revolve around the patient-doctor design philosophy.
In conclusion, don't settle for half-measures like Zoom. It may be popular, but it is so because it offers the most baseline telehealth experience, completely overshadowed by MyClinic thanks to its emphasis on HIPAA compliance. If you don't want to risk your medical info being exposed, or even worse, your private video session being intruded upon, make sure to pick the right choice — MyClinic — which provides a one-stop telehealth medicine experience.
Lastly, ask yourself one important question. If Zoom is not good enough for US senators, should it be good enough for your healthcare needs?
Bibliography
Flaherty, K. (2020). Zoom's Security Nightmare Just Got Worse: But Here's The Reality.
MILLER, M. (2020). Senate sergeant at arms warns lawmakers against using Zoom: report.